08/10/2007 22:06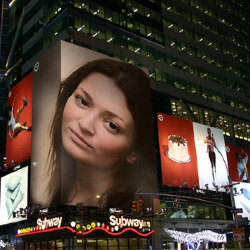 You will be pleased to see your photo glowing at night on the billboard in New York City.
06/10/2007 09:52
Сегодня одному из героев наших эффектов, Владимиру Владимировичу Путину, исполняется 55 лет. Мы ему желаем счастья, здоровья, много подарков и вообще хорошенько отметить эту дату. А я кстати живу в 55 квартире. Вобщем, в связи со всем этим ваши фотографии теперь будут храниться у нас 55 минут. После этого они будут удалены. Так что сохраняйтесь.
05/10/2007 21:15
Hello and welcome to PhotoFunia.com, a project formerly known as photofun.od.ua. In this blog we are going to announce about our new effects, upcoming events and would happily be receiving your comments and suggestions.
As a courtesy to other users may we kindly ask you to post comments in english language only.